Basic Guide To Taking Down Offensive Internet Content On Google, Facebook and Twitter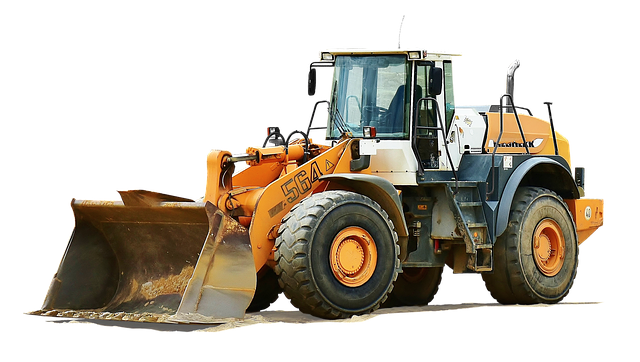 1. Introduction
Most social media sites try, like defamation law itself, to strike some sort of balance between the right to freedom of speech and the legal rights people have to protect their reputation and privacy.
As a general rule most social mediate sites "police" their content through a reporting procedure that permits users and visitors to lodge a complaint / report through an online form.
Typically, there are no guarantees that content will be removed once it is reported but that is often a good start.
Sometimes social media providers need to be compelled by law to remove content or pay damages for the publication. Usually, you will need the help of a lawyer for that to occur.
2. Google
a. Google Search
(i) Adult Material
5. If material appears in the safe search filtered results, then you can report the offensive content here.
(ii) Sensitive Personal Information
6. To make a request for the removal of personal information, including an image of your signature or a sexually explicit image of you, then lodge the report here.
(iii) Content that violates the law
7. To request the removal of content, such as abusive content, lodge the report here. This would cover content posted on: -
7.1. App Engine & Compute Engine
7.2. Chrome Web Store/Extensions Gallery
7.3. Fusion Tables
7.4. Gmail
7.5. Google AMP Cache
7.6. Google Classroom
7.7. Google Cloud Storage & Cloud Bigtable
7.8. Google Code
7.9. Google Domains
7.10. Google Fiber
7.11. Google Groups
7.12. Google News and News Archive
7.13. Google Newsstand
7.14. Google Open Gallery
7.15. Google Cultural Institute
7.16. Google Play Books and Google Books
7.17. Google Sites (Google's wiki- and web page-creation tool)
7.18. Google Help Communities
7.19. Google URL Shortener (goo.gl)
7.20. Google Wallet
7.21. Google Wifi
7.22. Local Guides Connect
7.23. Maps
7.24. Page Speed Service
7.25. Panoramio
7.26. Poly
7.27. Street View
7.28. Tour Builder
7.29. Zagat Editorial Reviews
7.30. Google Trusted Stores
7.31. Google Customer Reviews
7.32. Google Assistant
7.33. Feedburner
7.34. My Business Website
7.35. Data Studio
7.36. Cloud Firestore
8. Alternatively, if something is unlawful report it here.
9. To contact Google write to: -
Google LLC,
1600 Amphitheatre Parkway,
Mountain View, CA 94043, United States
3. Facebook
10. If you are based outside the US or Canada, then Facebook can be contacted online or by mail at: -
Facebook Ireland Ltd.
4 Grand Canal Square
Grand Canal Harbour
Dublin 2 Ireland
11. To make a request for the removal of something due to:-
11.1. privacy law related reasons go here.
11.2. a violation of your rights or an infringement, including privacy, impostor accounts, hacked accounts, abuse and harassment, pages and group admin issues, functionality issues, usernames and web addresses or some other legal right, go here.
12. For more information on how to report posts, photos and links go here.
4. Twitter
13. To lodge a complaint about content on twitter go here.
14. For copyright related infringements contact it as follows: -
Twitter, Inc.
Attn: Copyright Agent
1355 Market Street, Suite 900
San Francisco, CA 94103
Reports: https://support.twitter.com/forms/dmca
Email: copyright@twitter.com
15. To contact Twitter outside the US write to: -
Twitter International Company,
One Cumberland Place,
Fenian Street Dublin 2, D02 AX07 Ireland
5. Other Options
16. If your reputation has been lowered (defamation), or if you need to protect a legal right (misleading conduct, breach of confident etc), contact our offices to explore the options that might be available to you.
6. Further Resources
Australian residents can also report social media pages at the government site here.
---
Our defamation lawyers can advise you on:- the basics of defamation, whether you can sue for defamation, the defences to defamation, the damages for defamation, defamation and other causes of action, injunctive relief for defamation such as removing content from social media, and misleading or deceptive conduct.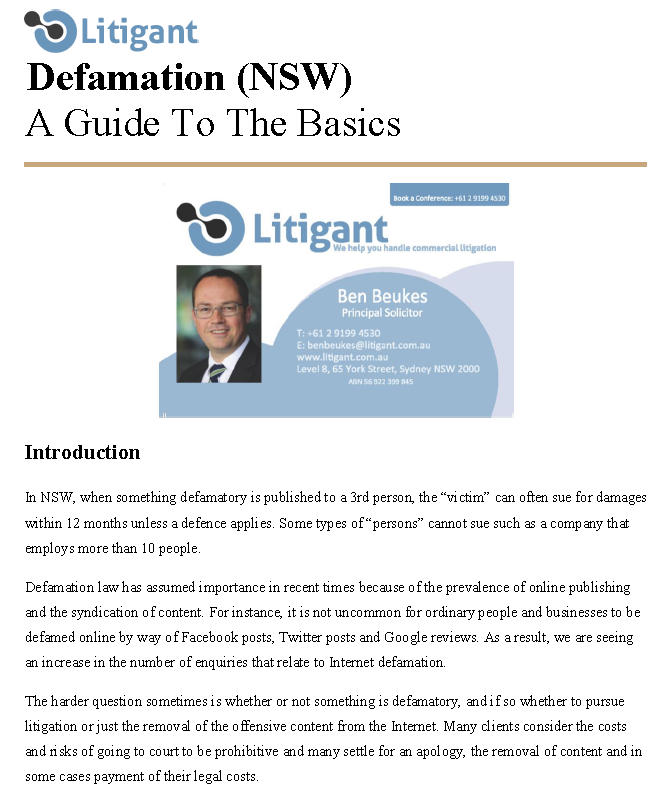 ---
* Disclaimer:- This publication contains general information which may not suit your particular needs or circumstances. It may be summarised and include generalisations. Details that may be important in your specific circumstances might not be included. Litigant strives to ensure that the information in this publication is accurate and up-to-date, but does not represent or guarantee that it is accurate, reliable, current, complete or suitable. You should independently evaluate and verify the accuracy, reliability, currency, completeness and suitability of the information, before you rely on it. The information in this publication is not legal or other professional advice. You should obtain independent legal or professional advice that is tailored to your particular circumstances if you have concerns. To the maximum extent permitted by law, Litigant excludes liability for any loss, however caused (including by negligence), relating to or arising directly or indirectly from using or relying on any content in this publication. Litigant asserts copyright over the content of this publication.